by Christopher Condon and Jeanna Smialek

Federal Reserve Chair Janet Yellen said economic gains are finally raising living standards for most Americans as a healthy labor market contributes to higher wages.

"After years of a slow economic recovery, you are entering the strongest job market in nearly a decade," Yellen told a class of graduating students at the University of Baltimore on Monday, according to the text of her commencement address. "There are also indications that wage growth is picking up, and weekly earnings for younger workers have made strong gains over the past couple of years."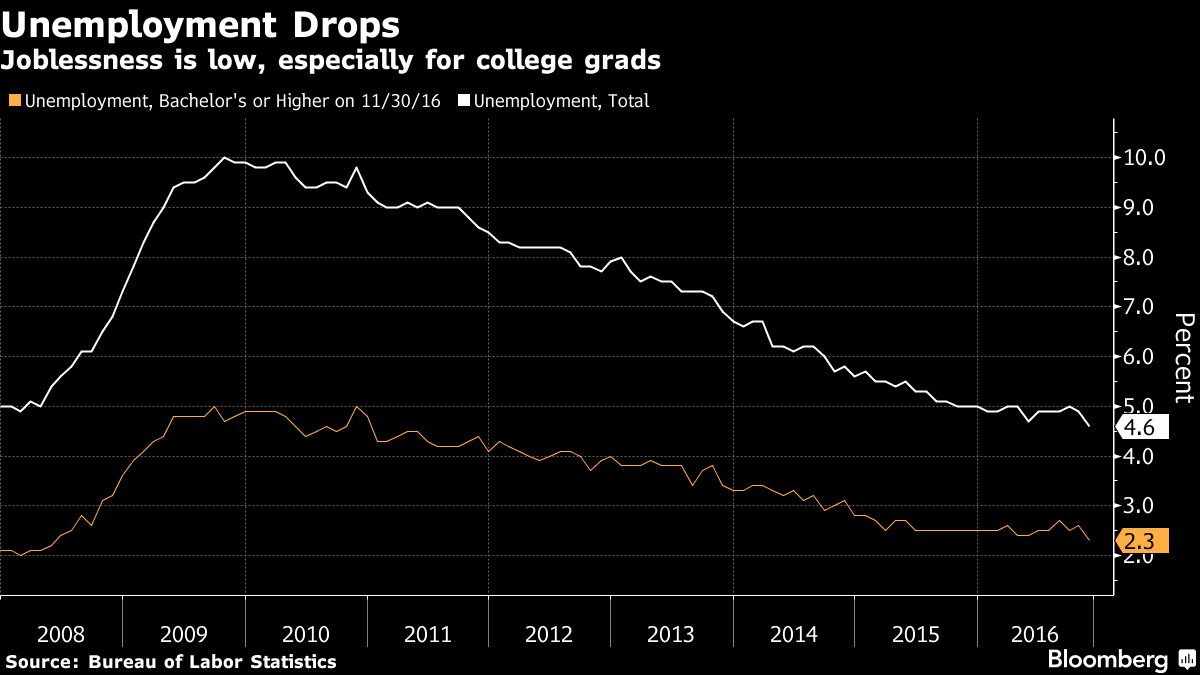 "While globalization will likely continue and technology will continue to advance, we don't know how fast the economy will grow, what new technologies will be developed, or how quickly and consistently employment will expand," Yellen said. "Success will continue to be tied to education, in part because a good education enhances one's ability to adapt to a changing economy."
The jobless rate for those with a bachelor's degree or higher is down to 2.3 percent, the lowest since 2008. While overall unemployment in the U.S. is twice that, at 4.6 percent, it's at its lowest in more than nine years.
"This is a level that has been associated with good job opportunities," Yellen said.
Fed officials said last week they expect the jobless rate will only decrease slightly over the next three years. Some members of the Federal Open Market Committee, however, have advocated a quicker pace of rate increases out of concern that the Fed risks sparking higher inflation if unemployment is pushed too low.
Headline inflation stands at 1.4 percent, well below the Fed's 2 percent goal. Core inflation, which strips out volatile fuel and food, is at 1.7 percent — higher, but still not where the Fed wants it.
The school where Yellen is speaking, the University of Baltimore, is part of Maryland's public university system. The majority of its students are from racial minorities, including 42 percent black, according the the school's web site.
The Fed has come under pressure in recent years to help increase minority employment by keeping interest rates lower longer, and has also been criticized for a lack of diversity in its leadership.
"The degrees you have worked so hard to earn and the opportunities now opening up to you represent the stubborn, earnest hope that anyone and everyone who strives to succeed still can succeed," Yellen said.